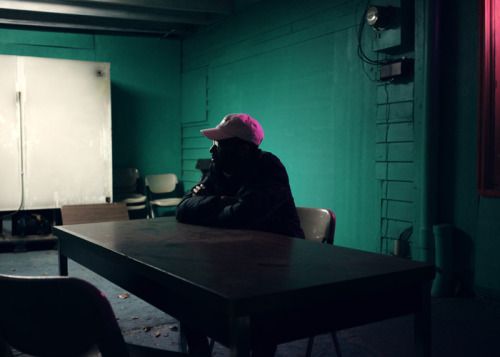 Seattle Weekly, 2016
Photos by Canh Solo
"I look like a real road man, don't I?" asks Sango as we take snapshots for this article off MLK Way, a few blocks from his apartment in the South End.
The 24-year-old producer is correct in British parlance, meaning he's dressed like a UK grime emcee in spotless adidas Ultra Boosts, tapered sweats and puffy black coat. Sango–legal name Kai Wright–is a bright and ascendant musical talent, while mostly unsung in sleepy-ass, whitewashed Seattle. He's also something of a cultural anthropologist (Google for his e-book, "Our Slang," which breaks down dialects from Atlanta, the Bay Area, Chicago, New York City and Toronto) and has styled himself to look quite a bit like Skepta.
"Road man" could apply in American English, too, since Sango spends a ton of time on the road. While local musicians grouse about being snubbed by the Capitol Hill Block Party, Sango is busy making a larger impact on rap and R&B, working with Bryson Tiller, Tinashe and the Soulection crew, playing guest sets on BBC radio, recording with vocalists in farflung studios and deejaying in clubs on other continents.
He deejays this Tuesday at the Crocodile with the Washington D.C. rapper Goldlink. You should go to hear big speakers pump Sango's nocturnal jams. Although the best way to soak in his music is perhaps on headphones while in transit.
As we drive down his beloved childhood roads, Sango is back in his element, a permanent South End resident now since August after ten years in "culturally bland" Grand Rapids, MI. As we speak he's still a little jetlagged from a brief tour in Brazil, promoting his album "Da Rocinha 3."
He was travelling with Joe Kay, Beats 1 radio host and leader of Soulection, the worldwide "future beat" crew of which Sango is a pillar. Brazilian fans treated Sango like a hometown hero while he was down there, dancing to his hybridized carioca funk and samba rhythms, which flit between the dramatic and the downtempo with a dreamlike feel. With his Portuguese samples, guest vocals and song titles, it's no wonder people think Sango is Brazilian. He's not, but he does have a serious affinity and is teaching himself Portuguese.
"Literally it felt like I was coming home to Brazil," he says. "This will always stick with me: At the Rio show, a guy said to me, 'Man, it took you this long to do a show in your home town?' I was like, 'Bruh, I'm not from here, I'm from Seattle. I'm from the States.' He said, 'I thought you were from rocinha!'"–the biggest favela in Brazil–"And I said, 'I make music for the rocinha.'"
Sango pauses, as if sitting back and contemplating mid-sentence.
"I've been there, the rocinha. It's scary. No, not scary. Detroit's scary. Rio's beautiful but depressing. So much poverty."
Sango doesn't draw a Seattle/Brazil comparison but listening back to our conversation, he uses similar terminology to describe the South End, parts of which he calls a "beautiful ghetto." He loves living here, loves the multiculturalism, the people, smells, sights, sounds. But he also mentions that outside his window around New Year's Day, he saw a man pull a gun in the park and for a few tense moments thought he was about to witness a murder. And when he reminisces about growing up in the area, some stories are pretty raw:
"I remember one time at the Brighton Playfield, it was like a gang initiation or something. They let out like 15 pit bulls on the kids. It was on the news. Kids got mauled. One of the kids that got chased, his name was Monnie. Lamont. He got killed recently. I don't know if you heard about the shooting at the Skyway Ezell's Chicken over the summer? He got shot 16 times. Sixteen times? That's monstrous. Evil. I was tight with him. When we got chased it was some movie stuff. 'Run! Don't worry about me!'"
Another pause.
"We got chased by dogs all the time growing up. It was always a new dog. And it was never a labrador. It was pit bulls and rottweilers."
Around that time in 2002, he learned how to make beats, downloading samples on Napster (Bugs Bunny and Animaniacs theme music), chopping them in Acid, arranging on Fruityloops. That was when he was 12.
His magnum opus so far, "Da Rocinha 3" was one of the best records of 2015, overlooked on year-end lists because it came out in November, still revealing itself months later. Instrumental tracks like "She Said" recall early Flying Lotus, electronic music made out of what sounds like wooden instruments. Songs like "Na Hora" (featuring Faktiss from France and Chris McClenney from New York) show how well Sango works in a team, gloriously percolating, mixing rapping and singing.
Higher profile team-ups show Sango's style infiltrating the mainstream: he produced "The Sequence" for Bryson Tiller's breakthrough "Trapsoul" album last year and the outro to "Cold Sweat" by Tinashe in 2014, Tiller and Tinashe being stars in what The New York Times has called "a new identity for R&B." Tiller is poised to have a huge 2016–his Seattle show in January was a hot ticket and "Trapsoul," which came out in October, is a sleeper hit with legs. On Soulection radio, Sango said Tiller will hopefully appear on his upcoming album "In the Comfort Of," which seems like it will be his grandest artistic statement.
"Bryson's the only artist that Facetimes me and keeps me in the loop of how he's thinking," says Sango. "It's pretty nice. Some artists will get high and forget. He'll be like, 'These beats, they're great and thank you. If I'm not using them, I'll let you know.' We hung out when he was in town. I brought my cousin and friend to the show. He's pretty big. He got over a million Instagram followers in three months. And he has his own meme. His own Pepe frog. People don't know that, they think it's a random frog. It's a frog with a black beard and curly hair, looking at a phone all sad. Someone drew it out. But it was based on Bryson Tiller. He has the earring."
Sango knows about how the Internet works and how to network there. He built his career online while in Grand Rapids, where he moved after elementary school because his parents were originally from the midwest and his dad got a job teaching fourth grade. Chatting with a 16-year-old fan in England about his music on Bandcamp in 2012, he agreed to let the inexperienced kid manage him ("he was like I'll help you for free, and I'll get experience"). Now Charlie Christie manages Sango out of London with Will Robillard in Toronto, booking shows for Sango all over the globe. They also manage the producer Kaytranada, signed to Adele's label XL Records, whom Sango considers "a brother from another mother. We grew up musically together on the Internet and beyond."
One of the other key people Sango met on the Internet is Tunji Balogun, A&R for RCA Records. There are a lot of A&Rs on Sango's nuts right now but he trusts Balogun the most, whom some local fans might remember from rapping on stage with Grynch a few years ago.
Balogun slid instrumentals by Sango to Kendrick Lamar when he was recording "To Pimp a Butterfly." Nothing materialized, but who knows? Something might. Balogun works closely with Top Dawg Ent. (Lamar's crew) and with Tiller. He says he's simply a fan of Sango and Soulection, which he describes as a new version of neo-soul, citing that audiences at shows include a lot of women and are racially mixed, and the sound is soft, deep and genre-fluid.
Another mentor is Seattle's Jake One, who produces for Drake, Chance the Rapper and Jay Z, and says when he heard Sango's fully-formed sound–and learned about the major moves he was making for himself–he had to call him in for a meeting.
"He was like, 'Yo man, I need to sit you down and tell you what you need to do for the city.' That's what it was! It was very much OG/YG. Pretty much he was like, 'Watch out for these labels, they want to steal your sound, they're trying to steal your sound already, these older guys get paid to steal music, so be aware of that.'"
Of course as an A&R for labels and his own projects, Jake wants some of that Sango sound, too.
"Pretty much every time I work with him he says, 'Make me sound young.'" Sango says. "I work with him a lot, him and this guy Swish. Swish is like a genius."
Swish is indeed amazing, by the way, a former UW student now playing keyboards and producing in L.A. Jake has good ears. You don't get 20 years deep into the game without being a good judge of talent.
The future for Sango is bright. And while I don't want to overstate it, he might have his own 20-year run. At least the writing is on the wall that his star will continue to rise in 2016 as he builds his national and international profile.
And as for locally, we're about to get a Sango infusion in the very near future:
"Not to diss Macklemore or what he's doing, but I find there's a little more to be said. I want to work with Dave B more. And Key Nyata. And even UGLYFRANK from Tacoma. I mean, Macklemore's dope. He's cool, very successful and doing things for this city. But we know that. We need to hear kids from the South End and C.D. We need to know what they sound like. How Seattle actually sounds. How Seattle rap is supposed to sound, honestly."