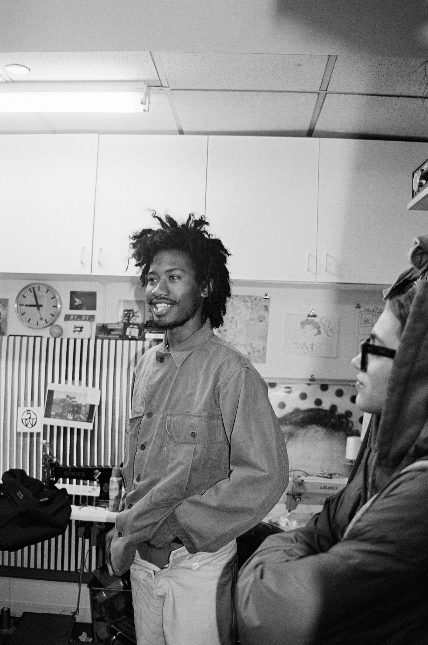 Photo by Esteban Scott
It's been a while since I did any style blogging, and one person who's been on my mind lately is Saji Gabriel Kashimawo Abude. So I decided to hit him up for a chat. He's been an inspiration to me for several years now: a natural creative multi-hyphenate who makes music in the wider orbit of Surf Gang (he has an EP coming soon on the group's own label), and contributed set design for Standing on the Corner, but is primarily a rising force in fashion.
Among many jobs, he's done iconic embroidery for BODE, designed the interior of Lullaby bar in Manhattan's LES, and just got a new gig designing for the expanding in-house line at the coolest shop in the world, Union Los Angeles. It's a big deal and congratulations were in order.
His personal style is also off the chain, and basically he's just cooler than you and me. But one main reason I fw him is he's not about anything that "cool" usually means: like lording your taste over people, stealing from marginalized groups, or being withholding and mysterious. He's none of that. He's a bell hooks fanatic, an enthusiastic appreciator of art, and quite simply based as fuck. Enjoy the Q&A.
So how are you? What are you doing right now?
I'm good man, I'm just leaving the crib on my way to the office. Working at Union now, helping out with the cut and sew stuff. The graphic tees and hoodies have been going strong since the beginning, but they're trying to build out the cut and sew.
So what is that looking like exactly for your involvement?
I got brought in through technical design. Traditionally speaking the designer does the mood board, the fabric choices, the cut choices, all the interesting creative stuff. A technical designer comes in and takes that design and breaks it down so a factory will know how to make it. I provide all the specs, the measurements for the POMs, the points of measure. So collar lengths, cuff lengths, your high point shoulder to hem measurement…do that, the bill of materials, which is all the materials in the garment, construction breakdown whether it's a straight stitch, top stitch, surge, et cetera.
Does that mean you make rough drafts of all the stuff Chris Gibbs comes up with?
I work directly with Chris Gibbs and Jamie Benson, Jamie is my direct boss, a more senior level designer. Him and Chris design the full collections and I'm starting to give my input. And then me and Jamie tech pack everything up. On top of it, Chris is the design director for UNDFTD on a consulting basis, and I'm about to work on that too. I'm about to tech out all of UNDFTD fall 23 that me and Chris just designed together, so that was fun.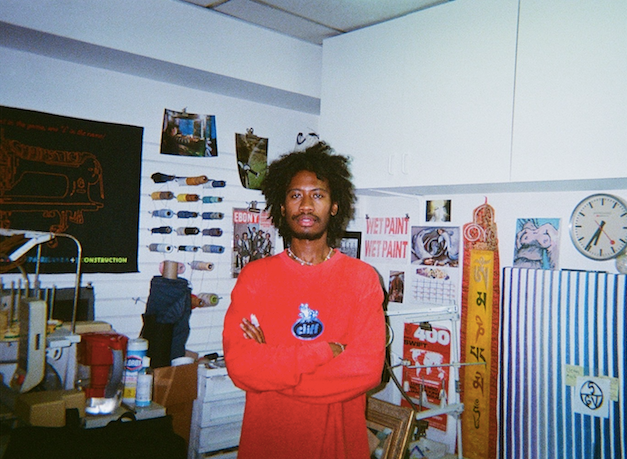 Photo by Nicholas Philbert
Do you create sample garments or digitally render them?
We make CADs, computer aided designs, which is something that goes across all fields – objects, interiors, design – and the CAD is the first page of the tech pack. So Jamie or Chris will draw up a CAD, and I'll take that and break it down, turn it into black and white, and add all the specifications of how it should be, materials, and all that stuff, and all that together is the tech pack. We don't have in-house pattern making or sample making. A lot of the ways we get our specs are from previous styles or references. So for example for spring '23 Union, we did an incredible two-toned jacket that Jamie designed and me and him were spec-ing it out and we used a vintage Levi's really unique type 2 trucker, and a Lee type 1 trucker to pull measurements from and reference.
Gotcha. Well congratulations on that, and I have some Union pants and can vouch for the quality. But it's also like the coolest store I've ever been in, so it's awesome for you that you're working with the best.
Thank you. You've known me for a while and watched me try to quote, "get into the industry," as an outsider, with my background and no degree. It's been a blessing and I really believe in what we're doing. Union has so much history, literally the first streetwear store ever, but nobody knows about the cut and sew line. It's only a few years old, and it has this vulnerability and excitement of being a young brand but also with so much history. So it's a really unique and cool dynamic.
I want to rewind a little bit. We worked together when I was at Moda Operandi, I reached out to you as a model and a set designer. You killed it. How was that experience for you?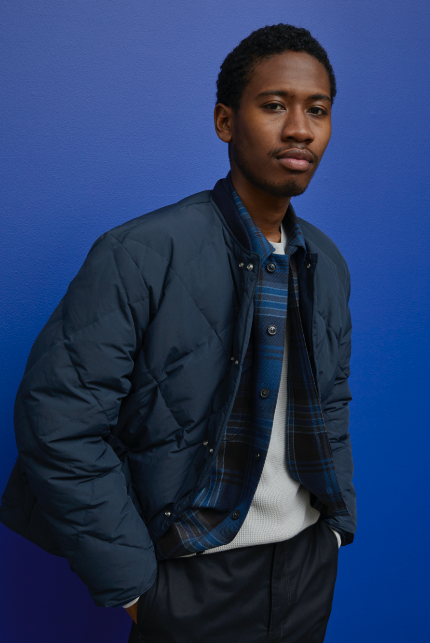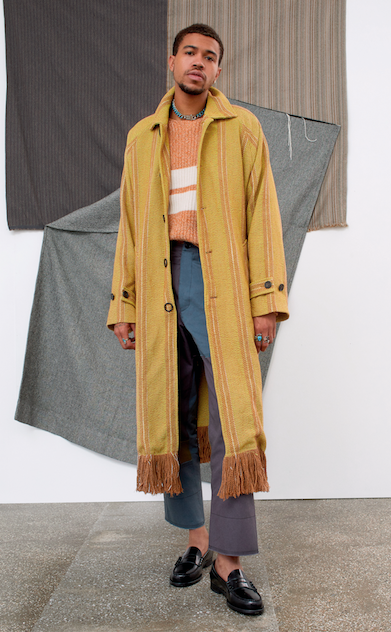 Images via Moda Men's
It was great and I really appreciated that. As you look back on your timeline, you see these turning points. And for me that was one of the first times I was able to work creatively in a corporate setting past being a model or a production assistant. We had our struggles – as you know – trying to establish the strong vision we had for something with people who just couldn't see it. But that was important for me to learn about working in those types of settings, with stylists with those types of egos. So I really do appreciate that. And it was also just fun working with someone I consider a homie, and flex that set design muscle in a way that I hadn't been able to.
It was definitely my highlight of my time there.
Hell yeah.
Before that, I got in touch with you to make some headbands for me, which came out dope. I can't remember how I found out about you initially, but at some point I remember learning you did the set design for Standing on the Corner, some flags and tapestries if I remember correctly that I really liked. What was that particular creative collaboration like?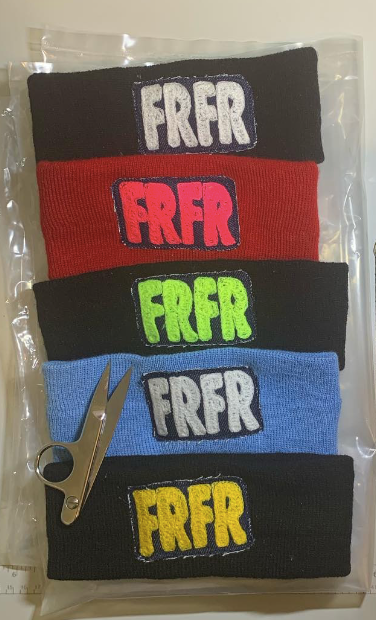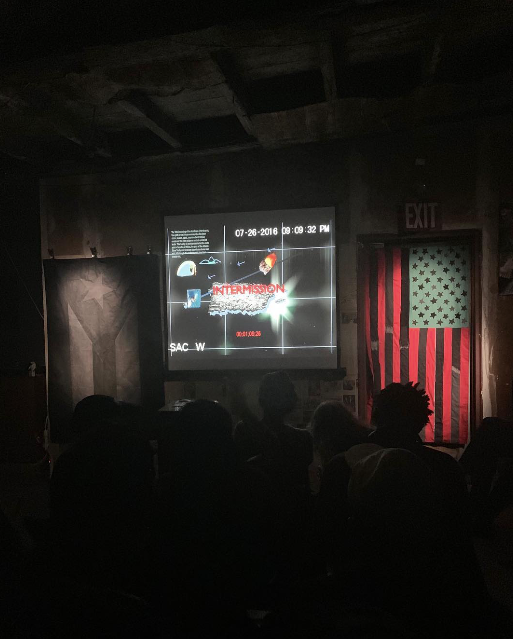 Well, I think just to circle back, you found out about me through some music thing. You were pretty hip to a lot of lowkey music shit that was going on. For whatever reason extremely hip, for what I consider an outsider to that scene. Very cutty. Stuff that I felt like I was onto something, being a part of it, and so I was like, Who is this dude? So I feel like we met through some type of music and you found out about me through that sLUms, very early Standing on the Corner era, Medslaus period of New York. But yeah, I got tapped in with Gio through Abe from AINT WET. He wanted a blacked out Puerto Rico flag and a Hammons style pan African African-American flag. We initially met at this venue the Cabin, this venue where a lot of homies lived at, and performed and recorded. Standing on the Corner performed there, they hosted Navy Blue's first performance, and I met MIKE an Adé from sLUms there too. It was a very fertile ground for music at the time. Then when he reached out about the flags, we went shopping in the garment district for fabric. I made those flags for a film festival, and later he asked me if he could use them for other performances. And I did a chain stitch flier for them one time, too. And I did some chain stitch patches for an astronaut suit that Melvin Van Peebles wore in a video for them.
All so sick. So after that, and after we worked together in 2019 for the Moda stuff, I know you were doing work for BODE. How did you get that opportunity and what did you do there?
There was a lot that went on. I had this whole journey with denim repair, which I fell into through Chainstich (One T). I got a gig at APC through my homie Cody Parks, and I was able to repair their own denim that they resell to people. When you bring a pair of worn jeans, you can trade in your old pair for half off a new pair. And then they resell the new pair for more. They sell for like a 50% markup or something. So I was doing that while working in the store. But then me and the homie Estiee went to Japan, and I came back and was like I can't work retail anymore. Japan was life-changing. Then I had the chance to work at Levi's doing chain stitch embroidery, and I also learned some tailoring, working on the Levi's Lot 1 program. In five cities – New York, London, Paris, Tokyo, and San Francisco – Levis has one store in each of those cities where you can make custom denim with master tailors. You can choose the denim, the rivets…they had discontinued leather patches you could put on them. It was a really cool program and that was my first experience with fine tailoring. Then I had the chance to open the Nordstrom denim bar on 59th Street at their New York flagship. First job with benefits, full-time. It was sick. I had serious input in big corporate stuff for the first time.
Then my boy Omer who I worked with at APC, he started working at BODE and eventually became their store manager and sort of like their retail director as the store grew, and now he's VIP client director I believe…when he started at BODE he was like, Yo we need chain stitch embroidery samples, I told them about you. I was like boom, I had actually applied for an internship before that with no response. I was like, I'm about to get paid to do what I was trying to do for free? Hell yeah. So I was doing their samples, and then we'd send those to production to be made. When the store opened, Emily loved the way I looked in the clothes, loved that I was familiar with the world, and asked me to work in the store on Saturdays when Omer wasn't there. So I got back into retail because it was unique and special. And so by the time I quit Nordstrom I was working one day a week at BODE and doing their samples, and that's when my chain stitch commission stuff really kicked up. I was starting to work full-time doing commission work at my live/work studio in Harlem at the time. That's when I lived with Yashaddai.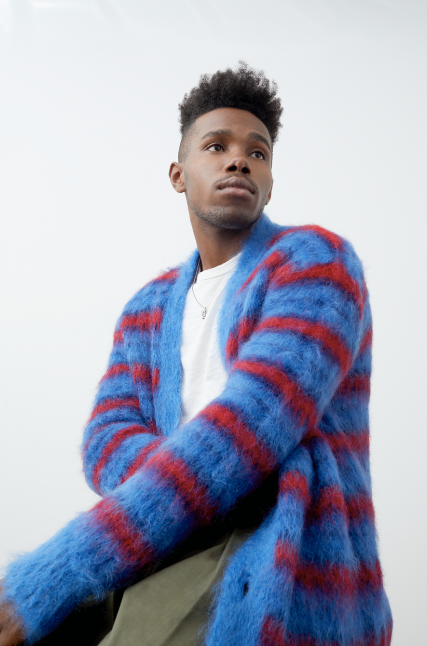 Image via Moda Men's
Who you also recommended to me as a Moda model. And who has one of the illest instagram stories of all time. Such a creative person.
Great taste, amazing person. His IG is like fine art. I'd love to help him curate some sort of…I think the work that he does online needs to be put in the context of the fine art that it is.
Totally agree. What were your best pieces at BODE?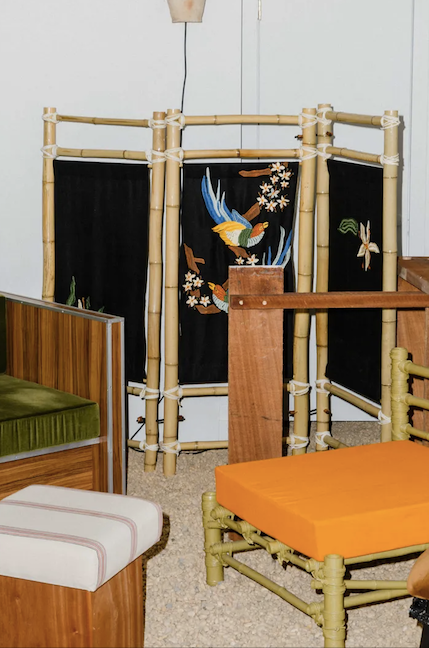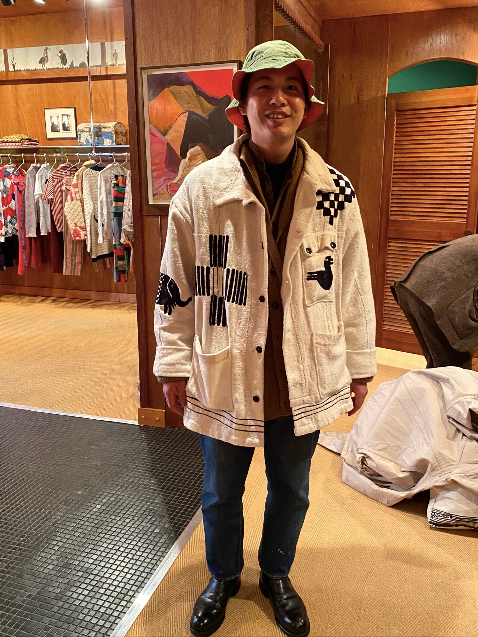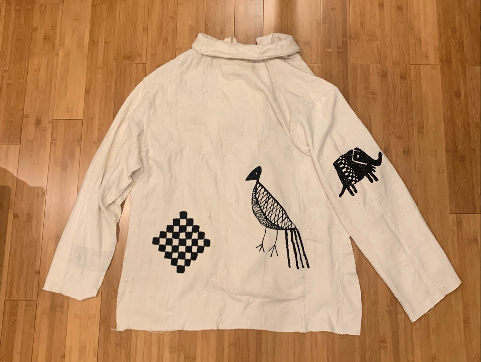 Great question. Two pieces stand out. The first piece I ever did with them – a collaboration with Emily's husband who does Green River Project. I was doing these bird and flower motifs on vintage Indian linens that he was then wrapping around bamboo to turn into room dividers. So one, that was one of the most complex projects I did for them, and two, working with both Emily and Aaron, Aaron has become a huge design inspiration for me as I get more into furniture and interiors, to work with them off the bat and see how they move and operate was really fun. And it was cool to see that screen go to France for an interior show, and then it be in the studio in Brooklyn, and move around. And the second piece, which was a similar situation to that, is I did this jacket. And I don't even think this jacket was a sample. I think we did two or three of them and that was production. That was the amount they made. It was because they wanted to do these special jackets for a store in Japan that just started carrying them. So I made these couple jackets, and it had a bird, and an elephant, and these stripes on some sort of like African linen. I did it, sent em off to Japan, forgot about it. Fast forward a year later, I'm in the BODE store and this Japanese dude walks in with the jacket on, and he was like I bought this in Japan. And I was like I fucking embroidered that jacket! That was a headbuss to me. That was the first time I was working on garments that were widespread around the world, due to the success of BODE. So it was cool to start seeing things taking on a life past my hands.
In the big picture, how would you like to see fashion change?
That's a tough one, that's a good one. I think my biggest concern is waste. It's just so wasteful. And we have so many resources we can lean on to change that. There's a lot of indigenous practices that can inform us on how to not be so wasteful. There's a lot of interesting stuff happening with hemp. For fashion I'm thinking of hemp-based textiles. It's biodegradable, so even if you're extremely wasteful, from a materials standpoint, it can all just live back into the Earth without doing anything to it. Also with manufacturing techniques, we're all obsessed with the quickest and the fastest way possible. And I think if we can slow down and understand…and that's a life thing, too, it transcended fashion. Just slowing down. One of my favorite thinkers now is Tricia Hersey who does the Nap Ministry. And her biggest thing is yo, rest, period. She'll post like, People are always in my DMs asking to collab, the only collab you need is a collab with rest. She's amazing. She has this whole concept as rest as resistance, especially for Black and queer people. I would like to see things slow down. Stop rushing. Stop trying to get the biggest collection out as fast as possible as many times per year. Give me one great piece that I can't put down, and that's more profound than these collections that I'll forget about in a month.
From my time working in fashion I saw a lot of privilege at play — people able to do internships or low paying jobs because their parents were paying their rent, people getting jobs because they had money, power and connections through their families. I saw a lot of racism, classism, elitism, fatphobia, ageism, ableism, misogyny… Definitely not a meritocracy by any means. So I want to know: Do you see that stuff too, and how do you feel about it? And do you think that's all a reflection of society, or is fashion particularly bad, or is it a mixture?
Of course I see it, I deal with it every day. Whether or not it's microaggressions or outright abuse. It's all reflective of the society we live in. bell hooks puts it plainly, we live in an imperialist, white supremacist, capitalist patriarchy. So everything we do or engage in will reflect that. Being aware is the first step. You as a cis white man knowing those things exist, and further knowing the ways you benefit from them and partake in them. It's us having this conversation. It's the fact you can bring up this question and not just talk about cool shit, and not just talk about fun shit. It's also knowing that critical thought is and can be the cool and fun shit. But being aware is also lazy at best, is how I feel. I don't have the answers. Being aware is the start but it's also still lazy.
Why do you do apparel design? Like why this, and not something else?
I got into chain stitch embroidery when I was in a rough period of life. I was dealing all kinds of drugs, I got locked up, I was sent away as an alternative to incarceration, all this shit. When I got back to New York after being sent away, I was really into film. Before that I went to Brooklyn College for film but dropped out because of all that legal and life stuff. So I was getting into film. And I was always really into a lot of things. Even when I was young and didn't realize you could have a creative career, I was thinking about municipal jobs like garbageman and fireman and things like that, I wanted to do multiple things, garbageman, fireman, policeman, I was always interested in being multifaceted. But when I got into the creative world I wanted to do everything within that. The fashion stuff, I kind of landed in because I got into chain stitch as a way to stay creative and use my hands while making money while I was figuring out other things. And I really am grateful that I fell into fashion, because it's good money and I get to learn a lot about design, and stay creatively stimulated while I plot on the other things I wanna do and am interested in. The tools I've developed have allowed me into rooms and behind closed doors that I wouldn't have a reason to be behind. Which is how I've learned best. But to answer your question short and plain, I really just fell into it and I'm just kind of running with it.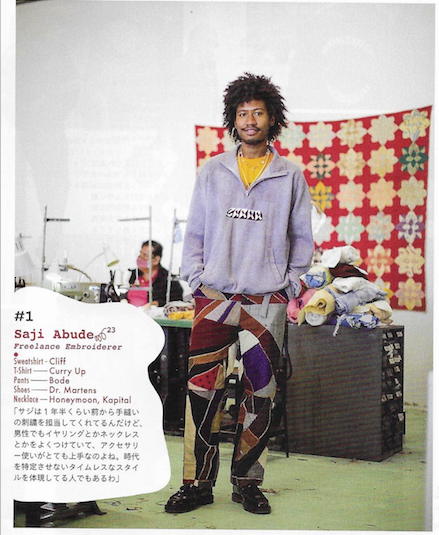 If you had unlimited budget and resources and were asked to design a collection, what would you do?
Well, funny you say that, I plan on not designing my first cut and sew collection until I feel like there's no limit. If I ever do it. And I don't want give up too much, because I do have something in mind. But I am really inspired by the history of my people, my Filipino and Nigerian people. I would like to honor that in some way, while being aware of what's realistically accessible for people. While saying all of that, one of my favorite brands is The Row. Which is extremely and insanely expensive. I just love the attention to detail and cut. I appreciate it being how expensive it is because I know the quality is there. I'd rather have that and keep it forever, than have people buy some shitty cool thing and forget it which will cause more waste. So without saying too much that's where my head is at. Really high quality things, as accessible as possible, while honoring my ancestors.
Wales Bonner just showed her Spring-Summer 2023 menswear collection. Did you see it? What did you think?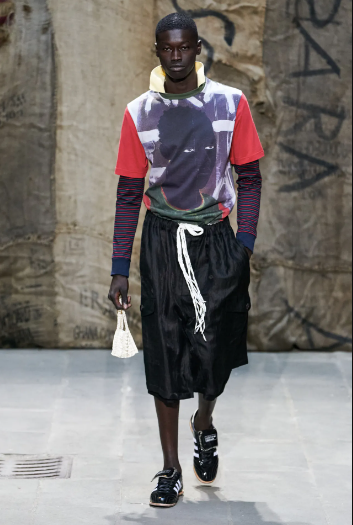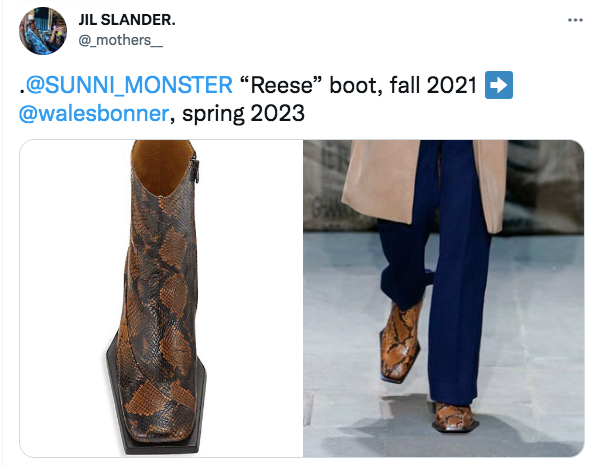 I didn't comprehensively see it. I saw it through people's stories online. But I'm a huge fan. My top three brands right now are The Row, Wales Bonner, and Kiko Kostadinov. I'm a huge fan of Grace. I love her art practice. I love the thought that goes into what she does. I was disappointed to see that she stole a boot from this young Black designer. Literally carbon copied. I don't know if it was her designers, or someone on her team. But it was the same colorway and everything, same cut, there was no denying it. But I thought the set design was beautiful. I love what she does, and like I said, I'm a fan. So I'm hoping she'll acknowledge and rectify that in some way, otherwise my perception of her will have to change, there's no choice. On top of that, though, that's some fashion shit that happens all the time. And I don't want her to get canceled. Cuz I know people would cancel her with a swiftness that they wouldn't if a white man did that. Matthew Williams just stole a bunch of shit from that designer Benjamin Cho, RIP. And he's still fine. If people really attack her and try to cancel her, I know that's coming from a misogynoir standpoint. So it's a tricky thing. I think it's about accountability.
Final question: Can you recommend some books?
Oh hell yeah. I would start with The Will to Change, by bell hooks. I'm in Mind Magic by Bill Harvey, that shit is bussing my head. Great fucking book. And I'll round it out with a third, cuz I have slight OCD and I want a rounded out number that feels good to me. Art On My Mind: Visual Politics by bell hooks. I can't put her work down. Watched lectures. Read a bunch of her books. She has like 28. I've read like seven or eight. I'll get there, though. She made a profound impact on my life.