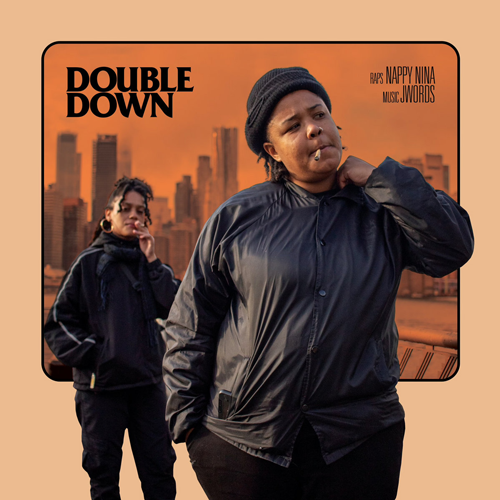 With a soft-sounding voice and a dense, writer's-writer approach to rapping, Nappy Nina has emerged these past five years or so as an artist for those of us who still give a fuk about lyrics, but don't want to listen to some old "rap used to be better" nonsense. Her style instead is personal and poignant, exploring the knotty parts of being alive and perhaps a little too aware.
After a string of boom-bap albums, her latest, Double Down, is a sharp zag into electronic territory, produced by JWords. All the songs belong to the dance floor in an abstract way, creating a kind of doesn't-fit music that works on its own terms.
On the phone she spoke to us about a few songs off Double Down, the music she grew up with in Oakland, the Black queer community she's vital to in Brooklyn, and her dream of being a screenwriter for sitcoms.
--
Was Double Down a Covid album?
Yes it was, conceived in Covid, started in Covid, ended in Covid. I rapped at home. JWords sent me the beats and I rapped to them. Even though she only lives in Jersey, we only saw each other twice in the span of us making the project.
You revealed a little of the origin story on IG: you jacked the beat to "Table Set."
Yep. JWords posted that one day and I just grabbed it, rapped over it, and put it out. She hit me a few days later and was like, Let's do a project. I was like, OK, I actually kind of needed a distraction from some other stuff I was working on. She's prolific, so I had a lot to choose from.
It starts with an upset song and ends with one about loneliness. What was going on in your life while you made this?
Well I definitely have a tendency to make songs about loneliness or sadness end an album. And I have been going through the same existential crisis for forever. So I haven't been going through anything new. But during Covid, I was thinking about being alone, and having a lot of time to be with yourself led to "4am," the last track.
Double Down is almost totally JWords production. But there's some keiyaA production on one track, too, right?
So the song "Thin Ice" that features maassai is co-produced by keiyaA. That's actually the oldest song, and we were all in the same room. I had that one tucked away. It was the first time all four of us got together, so that song is super special to me.
How would you describe JWords' style to the uninitiated?
I feel like JWords is very Jersey, at least for someone who is from the West Coast like me. When I hear her music I think I can see how folks from that place move. But I also think she's a chameleon. She's been making boom-bappish beats lately. But she also made "4am," and "Messy," and "Real Tea," and these are more songs you can nod your head to. I really like working with her because I feel like the pocket is always different on her beats.
I would say that this is a departure or an experimental album for you, that you're pushing yourself into new sounds. Do you agree and if so, why did you want to switch things up?
I definitely agree. And, I don't know, I love rap, and I love the competition of rap, that aspect of it. I want to be as good at rapping on experimental beats as regular boom-bap beats, or whatever. Challenging myself, it's fun. And it's a flex sometimes to be like, I can rap on this, too! You want to give me this? I can rap on this, too.
Where else do you want to take your music?
I would love to be a ghostwriter, if I could find someone that didn't mind not writing their own lyrics. With someone else, my lyrics could sound totally different. Coming from me it's always going to sound like me, even if the beat changes.
One of your defining qualities as a writer/rapper is expressing uncertainty. It's even a chorus on "Is Me a Star" ––which you answer with "I don't know." Do you consciously think about this topic?
It's subconscious. I do have that thought afterwards a lot, after songs, or even whole albums. Like Dumb Doubt. Sometimes people ask me what songs are about, and I find myself saying similar things about multiple songs. I guess I'm just working it out. Hopefully it won't be as unsure forever. I guess that's just where I'm at.
"four'am" has some pretty real lyrics about toughness –– "Tough / the word I heard so much growing up / suck it up / you a sucka, or a soldier, or what?" Could you please elaborate on the toxic side of toughness?
I grew up in a household where crying was not acceptable. Suck it up was a real thing I heard all the time. And I'm hella sensitive. Anyone who knows me knows tears come easy to me. The idea that you're not able to express your emotions, I've seen plenty of times, bites you in the ass. It's just a false expectation for people to have, to be this one soldier way, take it on the chin. It's not realistic. And it doesn't do anything but breed human beings who can't handle their emotions. So stop doing that, guys! Ha ha.
To circle back: Can you break down the chorus on "Table Set"? That's my favorite song off the album.
Yeah, OK. So the chorus, "Is the table set yet? Grab me a chair / put some air around the cable set." I wrote this song about trying to get a message through, but there's just so many other distractions, whether it be a screen or whatever. I was kind of picturing an old-school sitcom set. And then, "let's air it all out / nah, let's table it." Let's talk about the thing – actually nah, let's not talk about the thing. "Y'all telling tall tales / trying to fable it." And then then when we do talk about the thing, it's not all the way real. I was trying to talk about hard conversations, and something it's not possible or doable.
I found it really relatable. I'm always trying to be as real as possible, but sometimes I can't handle the truth, or other people can't.
It takes so much work to be truthful all the time. It's hella hard to do and a skill not many have.
I hear THEESatisfaction in your music — Stas Thee Boss and Sassyblack fka Cat Satisfaction — as well as in the H31r project and Maassai solo projects. Did THEESatisfaction set something off in 2012 that is just coming to fruition now? Am I overemphasizing their influence?
No I don't think you're overemphasizing at all. THEESatisfaction was way ahead of their time and there's so many copycats, and so much influence that we're just seeing now. Such as myself. The H31r project. But myself directly. They're the first group that I saw –– before I knew them –– that looked like me, that had a deal with Sub Pop, which was so tangible to me. It wasn't music everyone was rocking with, but the cool kids were. Stas directly influenced me, you can hear it in my adlibs. THEESat, all the way. Stas and Cat, man.
I'm sure you saw recently that NY Mag wrote "Black Queer Brooklyn Is Almost Reunited — and it feels so good" and used a photo of you and Stas Thee Boss as the lead image. Is that how you feel right now, that Black queer Brooklyn is almost reunited, and it feels so good?
Yes and no. I do a Black queer party in Brooklyn. I co-host a party called Joy which is thrown by Ryann Holmes of Brooklyn Boihood and Rimarkable, that's one of the illest DJs in Brooklyn. And we do throw this Black queer party that has popping every single summer. And I do hope we're all reunited. But it feels far off to me, so I'm not letting myself get too excited about it. But I think we're getting closer.
Who are your top five rappers?
This is so hard. Missy Elliot, Isaiah Rashad, Jean Grae, Stas Thee Boss, and Q-Tip.
Top five producers?
That's even harder. Swarvy, Dilla, Madlib, Stas, and Nelson Bandela.
What was your experience of local music growing up in Oakland?
My dad was a DJ, had radio shows and shit. And I was always watching stuff, from jazz shows at Yoshi's to seeing stuff at the poetry spot. And I grew up around Tony! Toni! Toné!, so seeing them play. A lot of real Oakland shit. Concerts at the park by my grandma's house. And I went to Rock the Bells as soon as I could, 45 minutes away at Shoreline Amphitheater.
I heard you've written for the screen. What kind of screenwriting have you done and would you like to do?
All the screenwriting I did was in college, I got a degree from the New School that allowed me to do a lot of screenwriting. I would love to write a sitcom. I feel like writing in different mediums is really challenging for me, even though it's something I want to do. I would love to write a 30 minute sitcoms. I love all the old school sitcoms, Good Times, stuff I watched with my family. I also love My Wife and Kids, Martin, Living Single...a lot of Black sitcoms.
OK to bring it back to music for the final question: Who else do you want to work with as far as music? Do you have a bucket list?
Definitely. Missy Elliot is on that list, James Blake is on that list, Ishmael Butler, Smino, Noname… There's a whole bunch of folks. There's so much music out there, but they're all on the list.