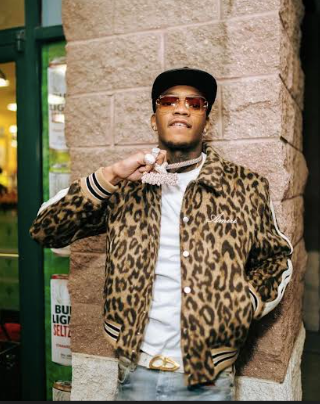 His launchpad was Brooklyn drill music — the minimal "Maneuver" with Rocko Ballin made him a local icon in 2020. But now 26AR wants to make all kinds of rap, and ultimately to be one of the biggest artists in the world.
In 23 minutes on Zoom, we talked about his recent signing to Def Jam, "Hottest In My City" with Rob49, his come-up with the producer A Lau, his experience as a chess teacher –– and how on one hand, yes, he makes rap that represents reality. But on the other hand, people should think about rap like TV: don't believe everything you see.
–
Nice to meet you. So where am I reaching you today, at home?
Yeah I'm stuck in the crib, I'm on an ankle monitor.
Oh damn. I'm sorry. How long is that going on?
Probably for like another month or two.
So you're going to be able to get out for summer, and maybe play some shows?
Hell yeah. I can do shows now, I just gotta ask for permission.
Oh I didn't know how that worked.
Yeah I gotta ask wherever I wanna go.
Congratulations on the Def Jam deal. How did that happen?
Saying, a bunch of labels were hitting me up. And Def Jam hit me up, and we had a meeting, and it went well. So I was fucking with it. I felt like there was a vibe with them. Other labels were just talking money. That's not it. It's gotta be a vibe.
What do you want to do now that you're on a major label? Does that change anything for you? Do you have new goals?
Bigger goals and shit. But nothing changed. I still gotta work hard, be consistent, that doesn't change. But I'm trying to be one of the biggest artists in the world. Shit like that.
"Hottest In My City" with Rob49 from New Orleans just dropped. Anything you wanna say about that track, or about him?
I fuck with Rob, that's my boy. My manager put me onto dude and I was fucking with it. They told me about his music and I tapped in and was fucking with it. He came to my hood for the video. Broward Park.
Is there anything you wanna say about Crown Heights, what is your area all about?
That shit is regular. If you're involved in the wrong things though, it can be bad. Growing up I was involved in the wrong shit. And I did my time for that, I went to jail. But it's not really that bad though, it's regular.
Do you notice the neighborhood gentrifying?
Hell yeah, for sure. And there's a lot of Jewish people right down the block, but they've been there. But yeah it's gentrifying for sure.
It's mixed Caribbean and Jewish and now all these new white people.
Oh you know about it over there?
I'm one of the new white people.
Ha ha. That's crazy. Nah yeah, it's cool. I don't really be over there any more though.
Oh word you moved?
When I started getting more of a name I had to move around. I can't have everyone know where I'm at.
I seem to recall that Bizzy Banks, when he got popping, moved out to Jersey.
You gotta do that. You can't stay where you're from because there's a lot of haters.
I'm sorry you have to deal with that.
Nah, everybody gotta deal with that once they start to be somebody.
So I should mention: I've been following you, Rocko Ballin, A Lau and the Off Record producers for a few years. I'm a fan, that's why I'm doing this interview. From the outside it looked like A Lau found you at the very beginning and you've all been growing together. Can you talk about how you met, and what you built since 2020?
I knew A Lau before I got locked up, in like 2015, 2016. He was producing for my older mans, doing music with them. But when I knew I wanted to rap I called him, I contacted him from jail and was just like I need some beats and shit. He was one of the people that was there when I came home, and we just went straight to the studio. I shot my first video in the studio.
That's a lot of history, six, seven years.
Yeah since I was a teenager. I'm 22 now.
So when you were in jail, you were thinking, when I get out I'm gonna link with A Lau, and we're gonna make music together, and we're gonna fuck up the game.
That's exactly what I was thinking.
Well you did it.
Yeah.
You're on Def Jam, Rocko's on Geffen, A Lau's working with whoever he wants to…Fivio…everyone leveled up.
Yeah that's a fact. That's how it's supposed to go.
But it hardly goes that way for anyone. What happened? Was the quality of the music just that good? What was the recipe?
You just gotta stick to the plan. A lot of people don't be sticking to it. They give up. Through hardships you gotta keep on sticking to it.
OK so how do you feel about the label "drill rapper"?
I don't like that label. I can really rap, though. It's not just drill rap, I can do all type of rap. "Hottest In My City," that's like a trap vibe. Sometimes I feel unsafe calling myself that, because once you label yourself people get a picture in their head of what it is, like a menace. The thing is everyone raps about violence. I don't understand why drill is so much of a thing.
New York's mayor, Eric Adams, wanted to ban drill rap from social media.
That doesn't even make sense.
But like you said violence is in a lot of genres, and it's also just in our society. So I think it's unfair to make a scapegoat.
Biggie and Tupac were rapping violence. That's regular. That's what the fans want to hear, they like that shit.
Do you feel like you need to give fans what they want? Or you give them what you need? Or what are you trying to deliver?
I'm just thinking about my story. My life. Whether they fuck with it or not, that's just what it is.
You think of yourself as representing reality.
Yeah.
What's your process like as a songwriter? Like where and how do you come up with songs?
Mostly in my crib, on my notes. I get beats from my A&R and write to it. If I'm in the studio I might freestyle a little, but I write in my notes.
In your opinion, is rapping easy or hard?
That shit can be hard. I ain't gonna lie. Sometimes I be getting writer's block, and I be stuck, and my head be hurting. But sometimes it be easy. I get inspiration from anything.
I know you are really nice at basketball too, like close to pro level. Is basketball easy or hard?
Saying like, for me it's easy. I have natural talent that I won't ever lose. I stopped for months and still had it.
I'm interested in your take on the pace of drill, how it evolves so quickly. Do you feel pressure to keep up with the next wave?
Nah. I'm on my own wave. I don't follow all that shit. I just do my own thing.
How do you feel about all the attention on Bronx drill at the moment? Do you care about that? Does it take attention away from Brooklyn? Do you just have to roll with it?
I don't really care for it, but I just know it's a phase. All this shit be phases. But it's about who can really keep it up. It's about who can keep going. A lot of people can't do that.
How do you feel about what's going on with YSL and the Georgia RICO case, and the state using rap lyrics in court? Is that something New York rappers need to worry about too?
Hell yeah cuz New York, we get indicted the most. I feel like it's unfair because rap is entertainment like TV. You can't believe everything you hear in a rap, sometimes we just paint a picture to amuse people.
So should rap lyrics be used in court?
Hell no.
Sorry about this impossible question, but I always like to ask: Who are your top five rappers of all time?
Jay-Z, Lil Baby….I could tell you my top five right now, I don't know about all time…Baby, Durk, Jay…two more…I don't know…
I know you've mentioned Cassidy as an influence.
Yeah I like bars. He nice.
What about in New York? Like who's hot in New York that you like?
Rocko Ballin, QG Meer, Humble Gz, Ciggy Black –– that's my boy –– Tazzo B, LR, who else be rapping from the guys? I don't know, all the guys though. Drench.
Is anyone else in your family into music? Where do you think you got your rapping from?
My dad used to listen to rap music all day, and used to rap a little, too. He was into like Jay-Z type of rap, regular rap.
Can we talk about "Roll It"? Who produced that?
Lucas, my homie Lucas made that beat. We were in the studio, wanting to sample shit, and I thought of Maxwell.
That was your idea?
That was my idea. All the samples be my idea, like "Heavenly," Keisha Cole…I thought of that. I be trying to find some rare old-school shit that sounds good. I was like, make it a drill beat, and he did that shit.
I like how the sample is so pretty…
Yeah.
But also there's that opposite thing where the Maxwell song is so about appreciating women, and your song is about being like a cold-hearted player.
Ha ha I didn't even think of that.
Really?
Nah I ain't even see it like that ha ha.
I also wanted to ask about one of my favorite songs of yours, "Chills." Is there anything that stands out to you about that one?
I wrote that in jail. I knew it was gonna be different. Like not as much of a drill song, I was just trying to make a regular song, with a reggie hook. I wrote that in my notebook. I still got that notebook somewhere.
I heard you used to have a part time job teaching chess to kids.
Yeah when I first came home, ages 3-10.
My daughter's 3. You think it's too young?
Those kids know what they're doing. They know when to go, they know where to go. They're smart. She can learn for sure.
What's cool to you about chess?
That it relates to life so much. I like thinking a lot. And thinking deep, thinking hard. You gotta think about your next five moves, their next five moves. You can make people do things they don't wanna do. It's crazy. I like thinking about stuff like that. Strategies. Tactics. Sacrifice, all that.
Are you nicer at basketball, chess, or rapping?
I think it gotta be rapping because I went the furthest with rapping. But I don't know!
Is there anything you want to say before we stop?
I'm coming for the city, coming for the world. That's all I gotta say. Drench.