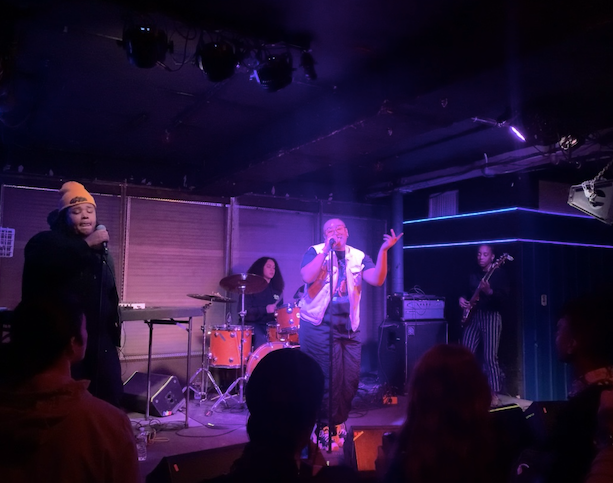 It could have been an official live album, that's how good it sounded –– psychedelic rap and R&B gets no more graceful and efficient. Instead, Stas THEE Boss' solo concert at Elsewhere in Brooklyn on April Fool's Day was a masterclass strictly for a cozy audience of diehard fans, encapsulating her past six years with the help of a custom-made quartet called "Will Smith" ("because they slap," she said).
The evening neatly summarized the second act of the rapper/producer/singer's career, as a solo artist following her game-changing run with THEESatisfaction from 2008-2016 — the group that basically invented Issa Rae's whole swag.
While THEESatisfaction was fairly lauded, none of that subsequent self-produced solo music received enough fanfare. But now KEXP has a whole podcast about how great it all was, and it seems like Stas knew she was being slept on. So it felt like the record was being set straight at Elsewhere, with Will Smith drawing on her major works ("S'WOMEN," "On the Quarner" and "Sang Stasia!") and elevating them.
The hourlong show hung on Stas' perfectly modulated rapping with no recorded background vocals –– a purist move. The fully invested crowd rapped along to lines like "I represent the Black Constellation / you represent a wack corporation" ("Rotary Style") and "How you got the sage and the incense? / But still got the rage in your intent?" ("Tried It").
The band was made of fans too, who were duly sensitive to Stas' art. Execution of live band rap music is often bad — think of 50 Cent with some drummer going crazy on the cymbals, totally missing the point of the original production. This, on the other hand, was a careful interweaving. Mega shouts to bassist Bria Monet, DJ Canteen Killa, background vox Nappy Nina, drummer Savannah Harris, and an unseen presence, the Will Smith band director Kassa Overall.
Together they took thorny songs about interpersonal drama, Black love, gay love, racism and identity –– songs which sometimes undersell their own inherently revolutionary messages, due to the easy glide of Stas' delivery or the midrangeyness of many of her mixes –– and celebrated each syllable and musical nuance. The music truly came alive. It was revelatory to hear Stas' intuitive-yet-weird grooves pop with new clarity.
I think right now she's at a peak of self-actualization, basking in a legacy and community she's built over the past 15 years. She raised a generation of THEESat fans who now play in her band and join her on tracks. All while still in her young adulthood.
This momentous yet lowkey show felt to me like a finale for her second act. And so now it is time for the third. It will be kicked off by "S'WOMEN 2," coming some time in 2022. From what I've heard, the album contains more artistic leaps, while also going back to the very beginning of THEESatisfaction –– continuing and connecting one of music's coolest arcs from the 2000s til now. Stay tuned and find out.